Over the last 4 years, the seed potato industry has benefited through a closer partnership with government.
A major achievement from the improved relationship between industry and government was the development of the risk based model for the ongoing management of Potato Cyst Nematode (PCN) a soilborne nematode which can reduce the yield and quality of potatoes which was first found in Australia in the 1980's. The risk based model for PCN was developed by DEPI Victoria and rolled out nationally in November 2013, has resulted in millions of dollars of savings for the industry in the reduction of red tape and a lifting of restrictions on trade conditions whilst maintaining strong biosecurity regulations to prevent the spread of this serious pest. All seed must only be grown on fields that have a known status for PCN which ensures that the pest cannot be transferred on seed stocks.
The strong working relationship with AuSPICA and DEPI has significantly progressed opportunities with new and emerging markets for Australian certified seed potatoes. DEPI has supported key negotiations with exporting countries to enable access for certified seed potatoes and AuSPICA provides the technical advice and information that demonstrates the high health status of the certified seed potatoes produced under the Scheme.
Meeting with Ir . H. Suswono 21/2/2014 re Market Access Certified Seed Potatoes with Benny Kusbini, Dr Nigel Crump (AuSPICA), Brendan Larkin (DEPI) and Peter Abel (Seed Grower).
Underpinning market access is sound science and the Agribio facility at Bundoora has potential to develop new diagnostic capabilities that will help secure new and existing market access. The formation of a Centre of Excellence for Horticulture at Tatura provides a platform to develop core capabilities and capacity for innovation. AuSPICA is pleased to announce that it will be an industry partner in the DEPI Centre of Excellence for Horticulture. Potatoes are grown and manufactured in a highly competitive and globalised sector of the food industry. Technology is constantly changing as companies and growers seek greater efficiencies and the sustainable use of natural resources. It is critical that the Australian potato industry continues to embrace new technology and processes as they emerge. Therefore, technology and know-how must be transferred to industry to drive innovation and enhance industry productivity and sustainability. The development of the centre for excellence provides a hub for innovation and is a welcomed development.
Importantly, industry must embrace world best practices to enable innovation and market access, a critical part of facilitating this is the active industry participation in the United Nations Economic Commission for Europe (UNECE) Specialised Section on Seed Potatoes. The UNECE develops global agricultural quality standards to facilitate international trade. The standards encourage high-quality production, improve profitability and protect consumer interests. UNECE standards are used internationally by Governments, producers, traders, importers, exporters and international organisations. The UNECE standard for seed potatoes was established in 1958.
Over the past 4 years, Dr Nigel Crump, General Manager for AuSPICA, has attended the UNECE seed potato meetings representing Australia of behalf of the Australian Seed Potato Council. In April 2014, Australia hosted the UNECE specialised seed potato meeting in Melbourne. At each of the UNECE meetings of the specialised section on seed potatoes, various aspects of seed potato certification are formally presented and discussed. Position papers are developed and where necessary the UNECE standards amended. Melbourne hosted the April UNECE meeting and delegates from 11 countries were shown the first class facilities at Agribio, the potato industry was showcased to the world. Minister Walsh welcomed the UNECE delegation and emphasised the importance of work done by the UNECE on seed potato standards.
Minister Walsh with delegates at the UNECE specialise section on seed potatoes meeting in Melbourne April 2014
Participation in the UNECE seed potato program is ongoing. Dr Crump has recently returned from meeting with delegates from 16 countries in Geneva Switzerland and will result in the rollout of   new knowledge for the potato industry.
AuSPICA celebrates 20 years as an independent industry organisation. Minister Walsh was on hand at the AuSPICA AGM and discussed the value of horticulture to the Victorian economy.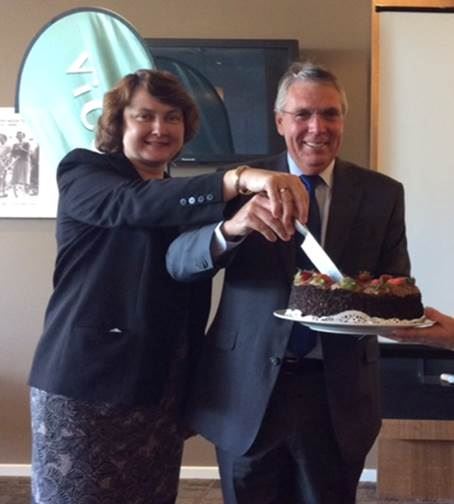 AuSPICA independent Chair Kay Spierings with Minister Walsh celebrating 20 years of AuSPICA and 70 Years of Toolangi Research Station.
2014 also marked 70 years since the establishment of the Toolangi Research Station which is now operated by AuSPICA in partnership with VSICA. Minister Walsh and local member Cindy McLeish inspected the minituber production and potato tissue culture facility Toolangi Elite which produces around 50% of Australia's potatoes – an important resource for the Australian Potato Industry.
Inspecting the facilities at the Toolangi Research Station with Dr Daniel Isenegger (Manager Toolangi Elite), Hon. Minister Peter Walsh (Minister for Agriculture and Food Security and Minister for Water), Cindy McLeish (Member for Seymour), Kay Spierings (Independent Chair AuSPICA), Wayne Tymensen (Potato Grower Cora Lynn and Otway's and Director AuSPICA)